June 2017 will once again be River Month
The Mattaponi and Pamunkey Rivers Association (MPRA) has been organizing a river clean-up day for the 25 years. In 2016 the non-profit organization has decided to give people the opportunity to clean up the rivers and celebrate them all month long. In addition to encouraging scout groups, churches, civic organizations and individuals to clean up shorelines, MPRA volunteers will be leading special paddles and workshops during the month of June.
"Each year, we were finding less trash to clean up, so we began to include stewardship and educational activities during River Stewardship Day," said Kitty Cox, who led the stewardship efforts for 25 years. "People began to sign up for everything we offered and our volunteer leaders were getting spread thin. So, we decided to offer activities during the month of June this year."
MPRA thanks its 2017 business partners and friends who help make River Month activities possible. They include: Mattaponi & Pamunkey Rivers Association volunteers, All Stewed Up Catering, Baylands Credit Union, Bennett Mineral, Call Armistead Computers, Calm Water Adventures, Charles Reed Firewood & Mulch, Country Courier, Dominion Resources Services Inc., Farm Bureau Insurance, Garden Club of Middle Peninsula, Gilgit Charitable Trust, Jojo's Huntin'& Fishin' Express, the Monday Club, NewMarket Foundation, Pamunkey Regional Library, Rappahannock Electric Cooperative, Scott's Store, Three Rivers Soil and Water Conservation District, Tidewater Review, Town of West Point, Tucker's Recreation Park, LLC, Twin Rivers Realty, United Steelworkers Local 8-0417, Virginia Cooperative Extension 4-H, VA Dept. of Game and Inland Fisheries, VA Dept. of Forestry, Walkerton Corporation, Walton Construction and West Point Pharmacy.
Please see our EVENTS page for all the specifics.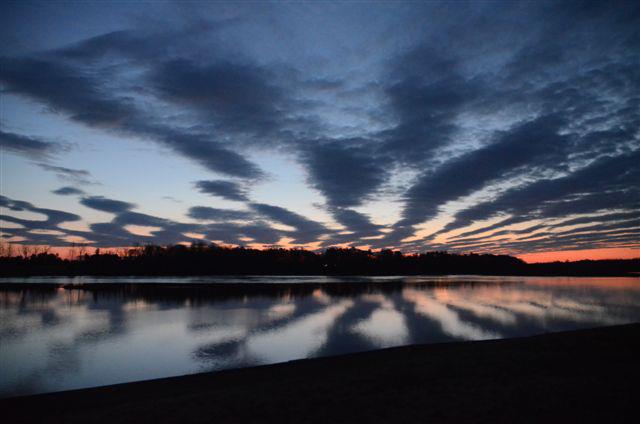 Gene Campbell took this photo of sunrise on the Mattaponi looking from the King William side down river towards Garnett's Creek.